GEOGIRL, MURRAY ENGINEERS' VERY OWN COMIC BOOK SUPERHERO. FIGHTING GEOHAZARDS SINCE 2016. ISSUE 2 AVAILABLE THIS FALL!
REAL NAME:

Sandy Clay




HEIGHT:

5'7"




WEIGHT:

138 lbs.





HOBBIES:




Horseback riding, volleyball, mountain & road biking, competitive archery, and guitar





ABILITIES:




Outfitted with the latest technologies, great balance, and an uncanny ability to sense unstable earth conditions, GeoGirl combats geologic hazards to save citizens and their structures from catastrophic disasters.





EMPLOYER:




Murray Engineers, Inc.

- Los Altos & San Rafael, CA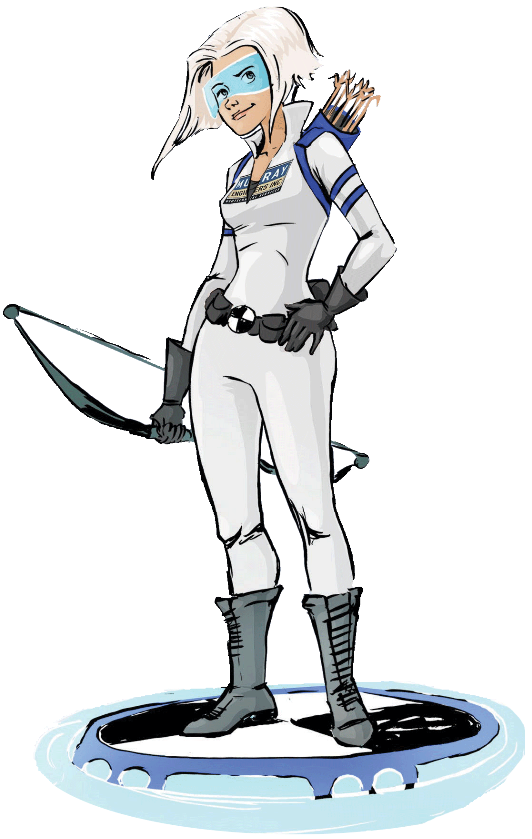 We teamed up with a local freelance artist and writer, Amelia Pendleton.
Her talents and vision have helped us make the heroine Geogirl come to life!
​
We hope you enjoy our comic-book take on the epic battles between
Mother Nature's GeoHazards and Humankind's ingenuity to suppress them.
In Issue No. 1, GeoGirl vs. Lance Lied!, our Heroine battles an
all-too-common foe of hillside property owners, the Landslide!



You'll witness the villainous Lance Lied (any resemblance to confessed
doper, Lance Armstrong, is purely coincidental) conspire with his
accomplice, El Niño, to destroy a hillside home and a roadway. But GeoGirl
is on the scene with her superior local knowledge and experience, not to
mention an amazing command of super cool technology.
How will it play out?!
​
We're pretty sure you'll enjoy the battle and learn something valuable
about ground stabilization without even trying.