CHARACTER INFO
Real Name: Sandy Clay
Height: 5'7"
Weight: 127 lbs.
Hobbies
Horseback Riding, Volleyball, Mountain & Road Biking, Competitive Archery,
Guitar and Drawing

Abilities
Outfitted with the latest technologies, great balance, and an uncanny ability
to sense unstable earth conditions, GeoGirl combats geologic hazards to save citizens and their structures from catastrophic disasters.
Employer
Murray Engineers, Inc. - Los Altos & Mill Valley, California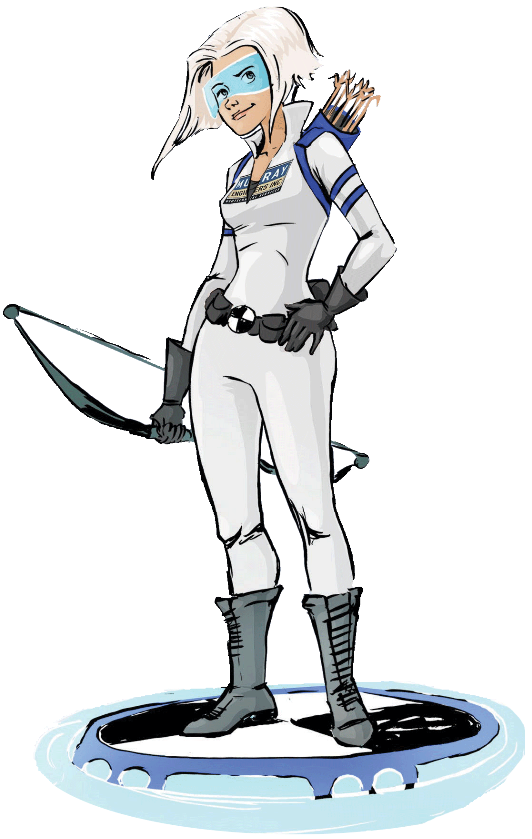 YOUR SNEAK PEEK TO THE FRONT AND BACK COVERS OF GEOGIRL VS. LANCE LIED
Armstrong lie Lance Lied Lance Armstrong Landslide Geohazard
Geotechnical Geology Cycling Bicycle Bike US Postal Service
USPS Ferrari Superhero Comic Book
SHIFT HAPPENS!
Landslides, fault rupture, soil liquefaction, expansive soil/bedrock, differential movement of earth fills, and coastal erosion are just a few of the Bay Area ground-movement concerns that can potentially wreck the value of your property!
Murray Engineers' three principals bring nearly 90 years of Bay Area geological engineering experience to bear on your ground and foundation stability concerns. We tailor our site investigations, recommendations and earthwork observation services to safeguard your property, leaving you with one less thing to worry about.
Our services include:
Foundation Investigations

Seismic Evaluations and Site Response Spectra

Liquefaction Evaluations

Landslide and Slope Stability Investigations

Fault location studies

Ground movement potential analyses

Fault and ground movement map modifications

Foundation Distress Investigations and Evaluation

Due Diligence Investigations

Retaining Wall Recommendations

Surface and Subsurface Drainage Control and Design

Pavement Design, Evaluation, and Repair Recommendations

Earthwork Recommendations

Field, Laboratory and On-Site Testing

Mill Valley Los Altos Peninsula Northbay Murray Engineers
Ultrarun training Armstrong. Tour de France Armstong Bay Area
Winning cheating forgiveness